Main content starts here, tab to start navigating
Menu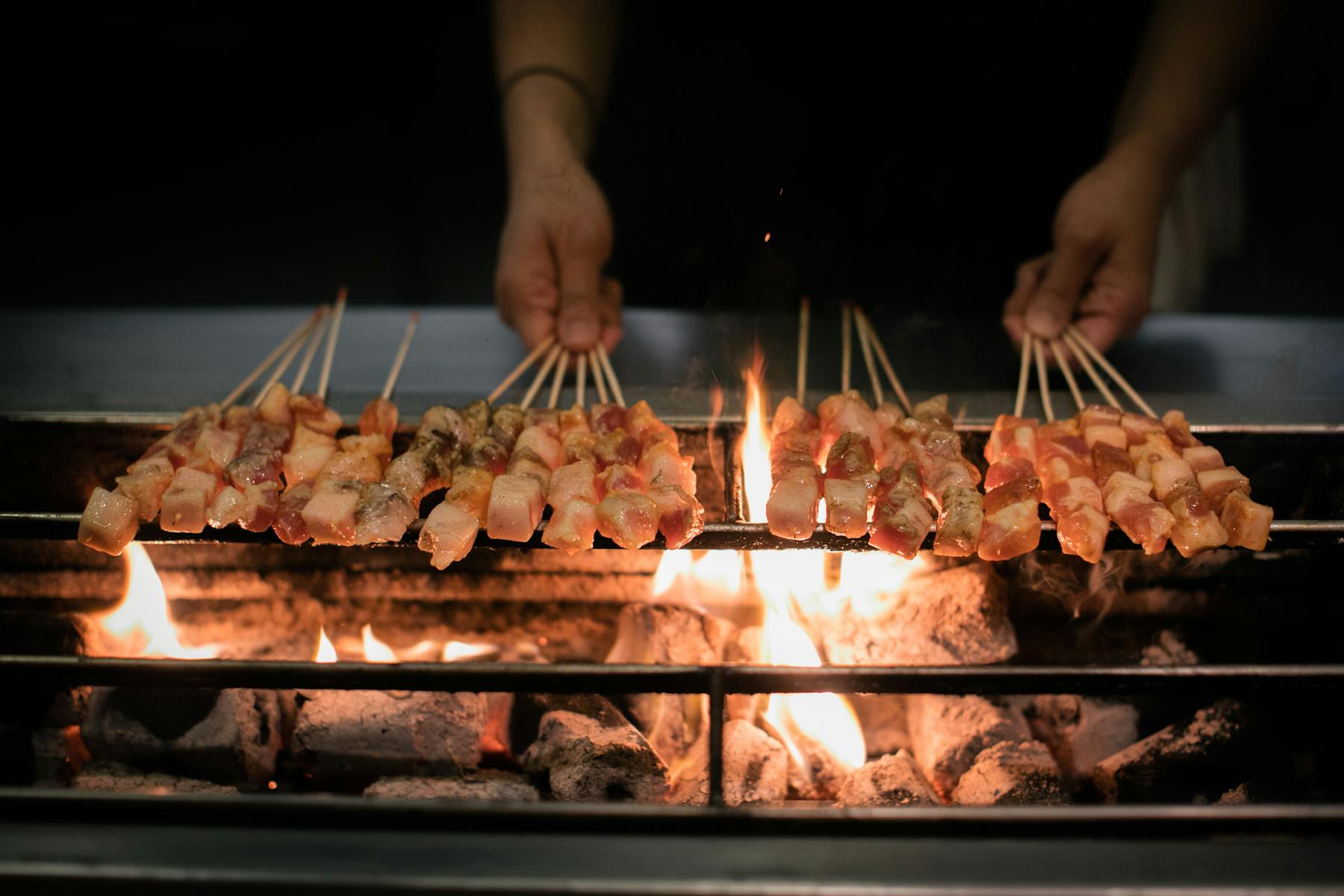 Our regular menu is accessible for viewing only, the regular menu and service has been suspended until further notice.
Currently, we offer only online ordering for no-contact pick-up, 4 days a week.
Order Online
Saté
Marinated meat skewered and grilled over coconut shell charcoal on our custom-built sate grills
Saté Kajang
Classic Malay-style sate, served with peanut sauce & cucumbers

Ayam (chicken)

5 sticks $16

10 sticks $26

Daging (beef)

5 sticks $19

10 sticks $29

Kambing (goat)

5 sticks $19

10 sticks $29

Tofu (vegan)

5 sticks $16

10 sticks $26
Saté Melaka
Straits Hainanese-style sate, served with pineapple peanut sauce & cucumbers

Babi (pork)

5 sticks $19

10 sticks $29

Ayam (chicken)

5 sticks $16

10 sticks $26
Other Malaysian favorites
Each plate can be enjoyed on its own and accompanied by any Lauk selection below
Individual Plates
Nasi Lemak Bungkus

Essentially a fragrant, flavorful, magical packet of Malaysian awesomeness! Coconut cream-soaked rice topped with sambal, roasted peanuts, crispy anchovies, and hard-boiled egg, all neatly wrapped in a fresh banana leaf

$12

Nasi Ulam

A hearty rice salad with aromatic herbs, shredded fish with toasted coconut, and bean sprouts, served with sambal lemak

$12

Mee Hoon Goreng Bungkus

Stir-fried rice vermicelli topped with whole egg omelet strips, served bungkus-style in a fresh banana leaf

$10
Lauk
Shareable Dishes
Rendang Daging

Braised beef in spices and coconut cream (our rendang is slow-cooked for at least 6 hours for the best flavor)

$20

Ayam Kurma

Braised chicken and potatoes in coconut cream sauce with toasted Sarawak white pepper and coriander

$18

Otak-Otak Nyonya

The ultimate brain food. Fluffy fish soufflé flavored with kaffir lime and betel leaf, steamed in a banana leaf pouch

$12

Kerabu

Salad of seasonal herbs and vegetables, dressed with lime and toasted coconut

$15

vegan

Ku-Mah's Achat

Spicy Nyonya pickled vegetables. Auntie's recipe!

$15

vegan
Sides
Ketupat

Rice cooked in a woven coconut leaf packet

$6

vegan

(Ask server about availability)

Tauhu Sumbat

Crisped tofu stuffed with bean sprouts and julienned vegetables, topped with peanut sauce and garlic-chili sauce

$12

vegan
Minuman/Drinks
Fresh Malayan Coconut

Young Malayan Dwarf coconuts, no pesticides or preservatives

$10

Ribena Syrup

(Black Currant Cordial) 2 oz shot

$3

Ribena Soda

A mix-your-own soda with Ribena syrup

$5

Soda

Coke / Sprite / Fanta

$3
Kopitiam Drinks

(see below)

Teh Tarik (Pulled milk tea)

Kopi (Milk Coffee)

Milo (Chocolate malt drink)

Teh-O-Ais-Limau (Iced lime tea)

Malaysian Cold Drinks

$3

100 Plus

Milo

Yeo's

Chrysanthemum Tea / Sugarcane / Lychee / Soy / White Gourd
Kopitiam Drinks
Traditional coffee shop found in Malaysia. 'Kopi' means coffee in Malay and 'tiam' is a Hokkien term for shop.
Tea
Teh-Tarik

(Pulled Milk Tea)

$5

Teh-O

$5

Teh-C

$5

Teh-Kosong

$5

Teh-Ais

$5

Teh-O Ais

$5

Teh-C Ais

$5

Teh-Kosong Ais

$5

Teh-O Ais Limau

(Iced Tea with Lime)

$5
Coffee
Kopi

(Milk Coffee)

$5

Kopi-O

$5

Kopi-C

$5

Kopi-Kosong

$5

Cham

(Kopi + Teh Tarik)

$5

Kopi-Ais

(Iced Milk Coffee)

$5

Kopi-O Ais

$5

Kopi-C Ais

$5

Kopi-Kosong Ais

$5